Right Now Only 11 Tickets Left
---
6 Home-Grown Entrepreneurs.
$24.75 Million Made in Six Months.
---
What can you learn from them today...
to grow your business tomorrow?
Neo Kah Kiat
CEO, Neo Group
Thomas Fernandez
CEO, Pestbusters
Moonshi Mohsenruddin
CEO, CommGate
Yee Shun Jian,
Founder, 101 Powerful Affirmations
Joshua Lung
CEO, Healing Touch
Ken Chee
CEO, 8 Investment
---
Why should you attend Business Mastery Expo 2013?
---
Look 10-15 years into the future, what do you see?
> Do you still see yourself doing what you're doing?

> Are you still at a dead-end job that you dread waking up every morning to go to -- in a career that's going nowhere?

> Do you look forward to weekends as a brief respite from your daily toil... only to suffer the Monday blues once Sunday night comes rolling about?
You find no joy in what you do and yet you just carry on year after year. And then it finally hits you... you get retrenched. You worked your socks off for your company for many years, and at the very end, they reward your loyalty with redundancy. You're much older now. You own a house, a car and you have a family to take care of. You have bills to pay. What do you do?
And you wonder what if...
What if you had simply taken that first step towards your dreams 10-15 years ago... things would be different. You'd own the business of your dreams, be financially free and most importantly -- you'd be doing what you love, truly living every day of your life! Your family would be well taken care of, you'd have no worries and you'd have a legacy to leave behind for your kids.
Well, I want you to know that you don't have to wait 15 years into the future to finally realize and REGRET why you didn't chase your dreams...

---
If you dream of starting your own business...
Or taking it to the next higher level.
---

If your dream is to start your very own business or to reach the next milestone in your existing one, then do it right now! You may not know how exactly it's going to get done, but that doesn't matter! The most important thing for you right now is to take a step in the right direction -- in the direction towards achieving your lifelong dreams!
Don't shortchange yourself. You owe it to yourself to make your dreams come true.
Because no one else will do it for you! And the moment you realize that freedom you want, that business you want, that life you want is all possible... You'll never have to live another day in your life wondering how long you have to suffer working a dead-end job, with a boss you dislike, and a career that's going nowhere fast.
You'll start living a life YOU want, doing what you love. For the rest of your life.
Take action right now and I'll see you at Business Mastery Expo 2013...
Click here to purchase Business Mastery Expo 2013 tickets >>
---
For 2 full days, you'll get full access to 6 entrepreneurs
who will share with you their most personal business secrets,
marketing strategies & how they put it all together to make
more than $24.75 million combined in the last six months...
---
Neo Kah Kiat - How to Grow from a Small Startup to a Public Listed Company
Have you ever thought about starting a business and having it listed on the Singapore stock exchange? Well, if so, you'll about to find out how Mr. Neo Kah Kiat, founder of NEO Group did it.
With amazing foresight and keen business acumen, Mr Neo has successfully established Neo Group, the parent company of 3 established catering companies, Neo Garden, Orange Clove & Deli Hub, and sushi chain - UmiSushi.
In fact, Neo Group started with only 8 employees and an initial start-up capital of $15,000. Today, Neo Group has established itself as the leading catering company in Singapore and in 2012, listed itself on the Singapore stock exchange.
---
Mr. Neo Kah Kiat is very much a trendsetting caterer. With his foresight and keen business acumen, he has successfully established Neo Group, the parent company of 3 established catering companies - Neo Garden, Orange Clove & Deli Hub - and other F&B entities from scratch.

Having a penchant for good food and entertainment, Mr. Neo knew what exactly people wanted and needed in the early nineties. With the economy riding high and double-income families the norm, consumers were looking for quality enjoyment at convenience, and so, the decision to go into catering industry came naturally.

In 1992, Neo Garden Restaurant was created, despite being a "restaurant"; the business was actually a catering business which provided home delivery meals and buffet catering from a shared kitchen in Joo Chiat. From a small start-up with 8 to 10 employees and a capital of $15,000, Mr. Neo is able to steer the company to its present success with over 400 employees and 4 state-of-the-art central kitchens that can produce up to 800 catering events a day.

A man with vision and beliefs, a humble catering company that used to rely on manual operations now has a fully-integrated IT system that connects procurement, logistics, sales, production and delivery; Every step is connected to ensure smooth and effective operation that maximizes its capacity and customers' satisfaction. Knowing that quality food is still the way to win customers, Mr. Neo never compromises on the food standards for anything. He created six unique practices with the catering companies to ensure quality is not just lip service, but practised in action.

Expanding his vision, after establishing Neo Garden Catering in the market, and with two more catering companies under his belt, Neo Group was incorporated in 2008. It has since become the parent company of UmiSushi, Orange Clove and Deli Hub. From providing quality catering service to consumers, the Group is now going beyond catering, providing a one-stop option for all events. Neo Group recently listed on the Singapore stock exchange in 2012 and revenue for its first six months hit $18.75 million.
---
What Mr. Neo will be sharing with you:
How to develop your business foresight & acumen - giving a first-mover advantage in your market space

How to spot business opportunities a mile away, capitalize on them and see your business take off from there!

How to create products and offerings that your customers want and are willing to pay you good money for it

How to grow a small company with just 8 employees to over 400... And, more importantly, how to successfully manage and motivate each and every single one of them

How to take a business all the way from a tiny startup to a public-listed conglomerate!

The proven strategy that Neo Group uses to dominate their market space & increase their overall market share... and how you can do the same
Click here to purchase Business Mastery Expo 2013 tickets >>

Thomas Fernandez - Secrets to Dominate Your Niche
Imagine getting the BEST clients for your business. Yes, I mean clients who are not only affluent but are well-known international brands. Clients like Marina Bay Sands, Shangri-La, Sheraton Towers, Goodwood Park Hotel, etc. - I am sure you can relate to that.

In fact, that's what Thomas Fernandez did with his niche business, easily separating himself from the rest of his competition. Today, his business is doing so well that not only is he working with big hotel brands, his business, PestBusters, has now expanded and spread to 6 different countries - Singapore, Malaysia, Thailand, Vietnam, Cambodia & The Philippines.

if you are looking for real, proven insider strategies that can be used to capture a huge chunk of the market, get into the good books of big brands, and stand out from all the "noise" out there... you have to hear this guy out.
---
Founder and CEO of Pestbusters and co-author of the best seller Secrets To Dominate Your Niche, Thomas Fernandez will share the inside of strategies used to capture 95% of the highly competitive premium pest control in the hospitality industry by differentiating PestBusters amongst the 250 competitors.
Learn how Mr Fernandez changed the perception of the pest control business and the way they innovate and carry out their business. Most businesses fail or remain mediocre because they don't differentiate themselves in their competitive business environment. That is why, it is so important to build a brand name as the best weapon to outwit, outsell and outperform so that you can charge a premium.
PestBusters brand is now in six countries - Singapore, Malaysia, Thailand, Vietnam, Cambodia & The Philippines - with more people are willing to buy its franchise. Their key clientele include prestigious brands like Marina Bay Sands, Goodwood Park Hotel, Shangri-La, Swissotel, Sheraton Towers, Carlton, Fairmont & Holiday Inn.
Mr Fernandez is also the recipient of the Outstanding Entrepreneurship Award 2011, organized by the Asia Pacific Entrepreneurship Awards. He will share the necessary qualities and thought process required to succeed in whichever field you are in. He will share his winning strategies based on his real-life entrepreneur and mentoring success that is priceless.
This talk is not just for entrepreneurs but leaders to cast way that employee mindset mentality and branding oneself in your organization to stand out from the crowd. A talk that will be engaging with lots of practical examples. This talk is for aspiring leaders, marketers and business people to dominate your way to success!
---
What Thomas Fernandez will be sharing with you:
Simple steps to immediately improve and brand your business better so you stand out from a sea of competitors

The step-by-step strategy to corner and dominate a market, easily seducing all your customers to shop with you voluntarily instead of going to your competitors

How to "cage" & retain your best clients after acquiring them and keep them for life - giving you consistent recurring revenue year after year after year

Singapore too small? Well, now you can learn how to successfully branch your business outside of Singapore and collect royalty cheques year after year... without you even lifting a single finger

The million-dollar mindset transformation session that'll immediately improve the way you run your business (you'll know what I mean when you discover more profit points of your business after this session)
Click here to purchase Business Mastery Expo 2013 tickets >>

Moonshi Mohsenruddin - How To Negotiate & Close Deals Worth Millions
You know what they always say - deal-making is the heart of all business. Master the deal and you'll be on your way to unlimited wealth.

If you think about it, it makes a lot of sense because when you master the art of the deal, you are in control of how much money you want to make. Think Donald Trump and you'll know exactly what I mean.

Moonshi Mohsenruddin started out as a toilet cleaner before he found his way as a CEO mastering the art of the deal. Ever since he founded his company, he has closed millions of dollars worth in deals.
---
From a toilet cleaner to a multi-millionaire - Master the deal and you'll write your own cheque.
Moonshi Mohsenruddin, a Singaporean of Indian-Arabic descent, Founder & CEO of CommGate (S) Pte Ltd was a school dropout at age 14 who started out his working career as a toilet cleaner before he was introduced to the world of computers and information systems at the age of 17.
Moonshi started his first technology software business with only S$7,000 after the Sep-11 terrorist tragedy. When his business failed in 2004, it was a major "learning experience" for him with nearly $500K in losses. In year 2005, he made a comeback and established CommGate (S) Pte Ltd. With his last S$3,000 in savings, he lived with just S$5 a day with his girlfriend Angeline, whom he has married.
With his vision, newly acquired skills, courage and perseverance to succeed at all odds, Moonshi put together his three-man management team, leveraged on Linux and Open Source Software and Technologies to innovate and create business IT solutions for business challenges that SME business owners face and built a multi-million dollar company with employees in Asia-Pacific.
Moonshi is a nominee for "XL Extraordinary Lives Award 2008 and 2009" by XL Results Foundation, "Promising Entrepreneur of the Year Award 2010" by the Indian Chamber of Commerce and Industry and DBS and "Spirit of Enterprise Award 2011" by Spirit of Enterprise. He is a regular speaker who shares about his life, entrepreneurship journey and about the benefits of technology with SINDA, Institute of Technical Education, SP JAIN Centre of Management, NUS Entrepreneurship Society, Raffles Junior College, Singapore Management University and at entrepreneurship and technology events.
He has been interviewed by Channel News Asia on his view of entrepreneurship, been invited to share his life and entrepreneurship journey on Mediacorp, XL Life magazine, Money & YOU publications, Young PAP Petir Magazine, Ninety-Degree magazine, The Straits Times, The Sunday Times, tabla!, Singapore Institute of Management Today's Manager magazine and several other publications for his extraordinary journey and challenges he went through in life to do whatever it takes to achieve his dreams.
The 9-Steps Sales Process is based on reverse engineering of the sales process developed by Moonshi Mohsenruddin over a period of 10 years while he walk the path of an entrepreneur. His sales framework is designed based on these two emotions and broken into 9 steps with lists of questions that the sales person shall be asking at every stage of the sales process to lead and qualify the prospect. Moonshi sees sales as a science that anyone can learn and master if they choose a path to help people and businesses succeed in their vision. In this 90 minute session, Moonshi shall be sharing his entrepreneurship journey, corporate sales experience and share what his 9-step sales process is all about.
---
What Moonshi will be sharing with you:
His life story and how he transformed from a poor toilet cleaner to CEO

How to develop the hunger and drive to absolutely achieve any goal and succeed in life

How to never give give up and continue striving towards your goal even though life seems almost impossible

How to sell anything to anyone, including nailing big contracts worth millions... all on your own terms

How to negotiate and close B2B deals with big corporate clients, including government bodies and listed companies

The 9-step sales process that'll transform any skeptical person into hungry, willing buyers - use this with GREAT caution
Click here to purchase Business Mastery Expo 2013 tickets >>

Yee Shun Jian - 8 Steps to Building a Successful Online Business
Imagine having your very own Internet business. It makes money for you any day of the week, anytime of day. Your website will stay open 24/7, run on autopilot and collect any orders you have even if you're on holiday basking in the sun in the Bahamas.
It can reach any customer in the world on the Internet, you can collect payment from any citizen of the world and if you're dealing with digital downloadable products - you don't even need to handle shipping; customers download their purchase themselves. You don't have to deal with crazy rent prices, unmanageable employees or long working hours.
You can make money from anywhere in the world - whether from home, from your Starbucks office or from your holiday villa overseas. You have no boss to answer to and you never have to wake up to an alarm clock ever again. Freedom is yours and the world is truly your oyster.
Sounds awesome? Well, of course it does! But that's exactly the lifestyle Yee Shun Jian lives every single day of his life ever since he quit his dead-end job and decided to go into the Internet full time. His websites make over $13,000/month for him on average and he has a raving fan base of over 90,000 fans. And he LOVES his job - his Internet business. And he's going to show you exactly how you can start your own Internet business and live the Internet lifestyle for yourself!
---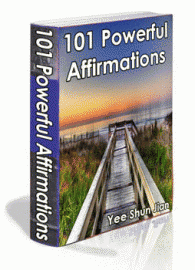 Yee Shun Jian is the Founder & Chief Happiness Officer of the 101 Powerful Affirmations Facebook community. He is also a super affiliate, list building, email marketing and Facebook marketing expert, internet marketing coach, successful online entrepreneur, personal development thought leader, speaker and author of the 101 Powerful Affirmations ebook - which has been downloaded more than 100,000 times worldwide.

Shun Jian's mission is to touch as many lives as he can so as to bring more love, hope and joy to the world. In line with that vision, Shun Jian founded the award-winning personal development blog RichGrad.com in July 2007 after quitting his first, only and last full-time job as a corporate communications executive in a multinational corporation.

In September 2011, Shun Jian founded the 101 Powerful Affirmations facebook community, to give away a life-changing eBook by the same name, as well as to revolutionise Facebook and make it more positive. Since then, this Facebook community has experienced phenomenal growth, garnering more than 93,247 fans. Shun Jian's quantum goal is for his Facebook community to hit 1 million fans, so he can make an even greater positive impact to the world.

Because of his vision, Shun Jian has gained an international following and was most recently interviewed by Tellman Knudson (founder of Overcome Everything Inc.) and featured on The Inspiration Show (hosted by Natalie Ledwell). He has also been interviewed and featured on popular personal development as well as internet marketing blogs such as Jame Ricks' Full Potential Show and JohnChow.com.

Shun Jian's passion lies in helping and showing people how they can break free of the bondage and slavery of a JOB (Just Over Broke), especially one they hate, so they can do something they absolutely LOVE and escape from the rat race like him.
---
What Shun Jian will be sharing with you:
How he used the internet to quit his dead-end job, survive near-bankruptcy and live a life of financial abundance

Why the internet is positively the best business model for anyone to start a successful business fast!

The best type of product to sell on the Internet so you never have to handle any unruly customers, shipping or inventory

The most important component your Internet business MUST have to generate passive income automatically

The 8 steps to building an online business and making money on the Internet. Follow this step-by-step process for yourself and you'll have your own successful Internet business.
Click here to purchase Business Mastery Expo 2013 tickets >>

Joshua Lung - How to Grow Your Business Into a Leading Retail Chain
If you are into spas and massage, then you would have heard about Healing Touch - possibly the most popular "affordable" spa here in Singapore.

Started in 2001, Healing Touch has gone strength to strength and has since opened its 4th outlet in 2012 and a 5th coming out this year.
In fact, Healing Touch has been known for providing good quality massages without the usual hard sell (which we know we all hate) - which is why Healing Touch is Facebook's most popular spa - with over 19,000 fans on their fan page.

Joshua is not only an outstanding entrepreneur, but an incredible man with great business acumen. Despite the intense competition in the wellness industry, he is on track to grow his company's revenues to the tune of 400% in the last four years!
---
Joshua Lung is the founder and CEO of Healing Touch, Singapore's most recommended spa on Facebook. He started his first spa in 2001 and has since business into a chain of four outlets and with a fifth outlet planned this year.
He faced immediate challenges in his first year of business. He lost five of his therapists and was was left with only two to run an entire spa. Two years later, the same situation happened again and he lost even more therapists the second time around. But Joshua battled every setback he faced and today has nurtured a team of over 50 therapists across his chain of spa outlets.
He also faced declining sales because of intense competition in the spa industry. But Joshua dug deep, rebranded his spas (without a brand consultant) to be more relevant to his market. Not only did he reverse his declining sales, but he grew it to the tune of more than 400% in the last four years!
Healing Touch also won the sliver award in the Best for Great Value category in the Cosmo Spa Trekking Report organized by Cosmopolitan Magazine Singapore.

Joshua will share how he built a successful business even if you have zero experience and how you can make it profitable as quickly as possible. He will also reveal his branding strategies that allowed his company to stand out from a sea of competition and to build an organization that attracts talent that will help you grow your business for you.
---
What Joshua will be sharing with you:
How to build a business with ZERO experience but yet, turn it profitable in the shortest time possible

How he built Healing Touch into becoming the most recommended spa in Singapore on Facebook

The right way to leverage on the power of Facebook to brand your company and at the same time, bring in hordes of potential customers for you and your business

How to build your business from a single branch to multiple outlets... but more importantly, ensure every outlet is bringing in healthy profits for you

How to overcome any business challenge thrown at you and emerge stronger

How to build and nurture your business from a single branch to a chain of multiple outlets

Simple yet powerful strategies to accelerate your business growth. Yes, the same strategy that Joshua used to grow his company by 400% in the last 4 years
Click here to purchase Business Mastery Expo 2013 tickets >>

Ken Chee - How to Build a $13 Million Company in Five Years
Yes that's me and I'll be your host for this event, sharing with you multiple strategies and secrets to building a multi-million dollar company.

In fact, I'll be even letting you in into the insights on how I built a $13 million company in 5 years - starting with a startup capital of $1. Yes, you hear me right. A dollar... and today, this company is managing assets worth more than $13 million.

I don't wish to toot my own horn here... so lets just say that you'll get back a lot more than what you've picked up from other events, books or DVDs this year - combined!
---
Ken Chee comes from a humble family background. His mother left him when he was seven and he was bought up by his grandmother. He went to the 2nd-worst ranked school in the country, had a sub-average academic life and got sub-average grades. He only started using English when he was 15 because of a learning disability, dyslexia, which was only discovered much later in life.

His dad was a simple bus driver who dabbled in the stock market. In 1985 his dad put whatever little they had in family savings in the stock market hoping to strike it rich. When one Singapore company, Pan-Electric Industries, collapsed with debts of over $480 million and wiped out $230 million in shareholder wealth overnight, the Singapore stock market crashed. In the ensuing aftermath, Ken's family lost everything. And so in the midst of his schooling, Ken started working at the age of 13.

But somehow despite all these setbacks, Ken finished school and graduated with a degree in business management. He got a job as a marketing executive at the financial firm SIX Telekurs and worked hard. After everything life threw at him, Ken had had made it. Or so it seemed…

Ken had bigger dreams. Being so poor all his life forced him to never stop striving and be comfortable with where he was in life. He wanted to make his first million dollars and so he decided to step out in the unknown and become an entrepreneur. In 2002 Ken started JM Asia, a branding and marketing agency with only $9 in his back pocket. In less than 18 months, JM Asia generated more than $1.4 million in revenue and now counts key brands such as Panasonic, Lexus, Toyota, Hugo BOSS, DBS Bank, Singapore Pools, Seraya Energy and ST Electronics among its clientele.

Ken is also the author of Brand Mastery – a book based on over ten years of Ken's personal branding and marketing experience. Endorsed by Jay Conrad Levinson – the international bestselling author of Guerrilla Marketing, Brand Mastery has powerful yet practical branding and marketing strategies gleaned from working with over 255 client projects. In recognition of his entrepreneurial efforts, Ken was the recipient of the Spirit of Enterprise Award in 2005. Out of over 140,000 small and medium-sized businesses (SMEs) in Singapore, only the top 40 SMEs are awarded this prestigious honour annually.

In 2008, Ken co-founded 8 Investment, a private investment company with zero capital. In less than 20 months, 8 Investment generated over $3.5 million in revenue. Today 8 Investment is a hugely successful investment, training and media corporation with over $13 million in assets under management and growing.

Now a self-made millionaire, Ken has achieved his dream of being financially free. He has been featured on national media such as The Strait Times, The Sunday Times, My Paper; on radio, 938LIVE, 958FM; and in magazines, Reader's Digest, Smart Investors and Shares Investments. Today, Ken is very much dedicated to paying it forward by educating the public to take charge of their financial future.
---
What Ken will be sharing with you:
How he became a millionaire at age 34 despite being born poor, went to the worst schools and having no special talent. If someone like Ken can make, so can you!

How to start a business with little or no money down and still generate million-dollar revenues. (This crushes the myth that you need huge startup capital to start a business)

How to overcome any setback or disadvantage that life throws at you and succeed in the face of your obstacles. And how you use this power to take charge of you life and achieve any goal in life

Simple guerilla, low-cost marketing techniques you can apply in your business that cost you next to nothing but will generate sales & revenues many times over for your business

How to build and mange a company with over $13 million in assets under management and growing. This is the fastest, most powerful way to leverage your business growth - so listen to this!
Click here to purchase Business Mastery Expo 2013 tickets >>
---
Real-Life People. Real-Life Results.
---
Every single one of these guys are all examples of REAL people achieving REAL results in their businesses.
Because whether you're attending a mega-event like this one or simply reading a book about business success, you ONLY want to listen to people who've actually been there, done that and attained real results, instead of some armchair professor spewing research theory from a textbook.
And the best part is, all our speakers are just regular people like you and me. They're not born any different, have superhuman intelligence or some super-rich benefactor bankrolling their businesses. They all worked to get where they are today, and more importantly, they were all willing to TAKE ACTION to achieve their dreams.
Are you willing to take massive action to make YOUR dreams come true too?
Click here to purchase Business Mastery Expo 2013 tickets >>
---
Why Business Mastery Expo 2013 is different.
---

If there's only one business event you should attend this year, then Business Mastery Expo would be it. Of course I'm biased saying this, but with good reason -- because Business Mastery Expo really is different, and I'll tell you why...
#1 This is a NO-pitch event

. Unlike most other events where it's a thinly disguised pitch-fest with hardly any real content at all, Business Mastery Expo is different -- there are absolutely NO stage selling presentations. You're going to get loads of REAL content that you can take away and apply in your business -- immediately. You're here to learn and we want to keep it that way.

#2 Real-life speakers. Not to say our speakers are real-life and others are back from the dead, but you know what I'm getting at. ALL are speakers earned their chops in the business world and they all have true-life business experiences to share with you. Like I said, if you want to learn anything from someone, learn it from someone who walks the talk.

#3 Expert panel. This isn't going to be some boring one-way lecture with our speakers yapping about just how great they are. This event is about YOU and we're here to help you with your business. So ask us any burning questions you may have about business, branding or marketing and get them answered right on the spot.

#4 Limited to 300 people ONLY. Seats are limited for this event -- the venue can only accommodate that many bums inside and we definitely don't want anyone to hang from the rafters just so they can catch a glimpse of what's going on. So 400 tickets and that's it. Once all the tickets are snapped up, the only way you'll be able to get in is to buy your way in from someone else.
I honestly think you'll be hard-pressed to find a business mega-event this year that'll hold a candle to Business Mastery Expo. Not to say other events aren't worth their salt, all I'm saying is I'm supremely confident in what we can give to you and the value you'll receive from Business Mastery Expo. Period.
---
Business Mastery Expo 2013 event details.
---
Business Mastery Expo


Discounted Tickets:

Only S$149
Only Valid Till 26th July 2013
(Normal Ticket Price: $200.00)
Date/Time: 27th and 28th July 2013, 9:00am to 7:00pm
Venue: Suntec Convention Room 301, Suntec City, Singapore
Click here to purchase Business Mastery Expo 2013 tickets >>

---
Get your tickets for Business Mastery Expo 2013!
---
** Priority Secure Order Form **
Business Mastery Expo
Discounted Tickets: Only S$149
Only Valid Till 26th July 2013
(Normal Ticket Price: $200.00)
Date/Time: 27th and 28th July 2013, 9:00am to 7:00pm
Venue: Suntec Convention Room 301, Suntec City, Singapore
Right Now Just 300 11 Seats Left
Click here to purchase Business Mastery Expo 2013 tickets >>
Your order is processed on a 128-bit encryption secure server. Once payment is approved, you'll be redirected to our registration page to confirm your details. Once submitted, your seat confirmation will be sent to your inbox.
Call +65 6225-8480 or email us at contact@businessmasteryexpo.com
if you have any questions or to arrange for cash/cheque purchases.
---
Home | Speakers | Partners | FAQ | Book Your Tickets | Earnings Disclaimer | Privacy Policy
Copyright © 8 Events Pte Ltd. All rights reserved | 10 Raeburn Park, Blk A #01-04, Singapore 088702
Phone: +65 6225-8480 | Fax: +65 6220-4460 | contact@businessmasteryexpo.com